– a revealing new-opera about all sides of the family hell.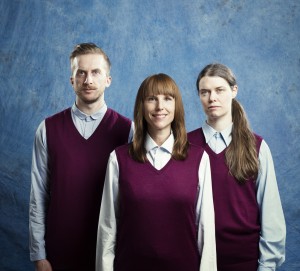 photo: Nadim Elazzeh
The Family, in swedish Familjen, is about adults, children, relationships, parenting, and much more related to life – a collage of short stories that highlight both the bright and dark sides, with a high recognition factor. Niklas Rydén, who has written the libretto and the music, wants with this opera to bring engagement and conversation around what it means to be a human being and to live in close family relationships.
The family is Niklas Rydén's and NewOpera CO's fifth opera. The libretto has evolved over two years, where Niklas Rydén gathered stories from real life through meetings with different people. This has resulted in a collage of more than fifty short scenes from the life of the family.
In the final work about half of these stories are presented in two acts. Each act is 1 hr 15 mins long. The swedish libretto is available here.
The Family was played in september at the venue Atalante in Göteborg and premiered the 9 september 2016.    atalante.org
In november NewOpera CO guested aliasTeatern in Stockholm with The Family.
Some documents, all in swedish:
Libretto, Synopsis, Programblad
Alla berättelser som inte kom med
Berättelsen om hur Familjen kom till, Första skissen över innehållet, Tematisk översikt från förarbetet
Participants:
Niklas Rydén, libretto and music
Eva Ingemarsson, director
Kim Johansson, projections, animations
Eric Rusch, song
Sofia My Fryklund, song
Lisen Rylander Löve, song, sax, bass clarinet
Karin Wiberg, song, violin
Magnus Boqvist, song, percussion, electric guitar
Emma Augustsson, song, violincello
Niklas Rydén, song, piano
Viktor Wendin, light design
Karin Jatta, costume
Pär Bengtsson, sound
Familjen is produced by possibilitas.se
Here are links to some films from the process:
Open musical rehearsal 6 mars  


Open rehearsal 6 mars, talking to audience

 Open musical rehearsal Kulturnatta 22 januari

Reading of libretto februari 2015

Familjen is supported by KUR, national, VGRegion, Göteborg town, The Drama association och The Swedish Arts Grants Committee.