About The Family in media (swedish):
P1 Kultur förhandsreportage om Familjen
Britt Norbergs recension i alba.nu
Johanna Paulssons recension DN
Some reviews of Cirkus from daily magazines and from the web.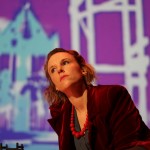 Here Niklas Rydén has found his ideal interpreter. The song is straight and intimate, expressive and tentative, and consistently accurate in capturing the different moods. The lack of opera vibrato is really an asset, and makes the melodic appropriations not tipping over to the the sentimental and emotional. — The song bears the full expression and there arises a complex presence, a sense of time where the music wanders through a magical world of the circus knife thrower, trapeze artists and all sorts of dreamers.
Magnus Haglund in GöteborgPosten         Read more    (swedish)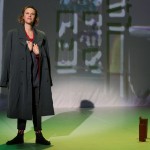 Just like in the contemporary circus the skills of the artist are subject to the story that is to be told. It affects the singing style, the ambition that the music shall be as close to the text as possible. The result is an accessible song storytelling. In Cirkus this is even more successful.
— Amidst all is Sofia My Fryklund. It would be wrong to say that it is her show, the big picture is the point, but alone with her amazing moving and unaffected voice paired with equally fragile as a strong presence, she portrays this subversive life.
Lis Hellström-Sveningson in www.nummer.se     Read more   (swedish)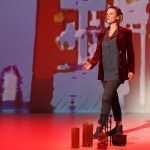 When I see the show it strikes me how well this opera's basic fable set in the libretto set in the libretto, corresponds with the lyrics and the music. The focus on the existential feels hand down, but still in an innovative way actualized and liberating free from solidified and inflated 19 century art. The new-opera feels free and independent, yet related in a clear manner to traditional opera. With a comparatively minimal orchestra, one person on the scene, an intimate room, it all feels like a kind of post-modern chamber opera, playing with tradition, yet held together by a plethora of markers and references …
Björn Sandmark, head of Göteborg City Theatre, in his blog.     Read more  (swedish)
For those who are interested in the opera genre of today Niklas Ryden's Cirkus is a gold mine to draw from. The talking poetry. The vocal expression, which Rydén wants to be close the spoken word. The minimalist set design, the musical inspirations of Brecht, Kurt Weil, of jazz, of the traditional opera, with such diverse genres as Peking Opera and the Argentine tango – all this offers inspiration and opportunities. The poetic portrayal of external action and inner life gives a possible compass direction for those who want to create opera with timeless connections to the present.
What was strongest for me in Niklas Ryden's Cirkus in yesterday's show was the very experience of life that I was invited to. But I also get a different experience. Of this work as something that points in a direction that can be the future of the art of opera.
David Dickson in the blog "What comes naturally"     Read more  (swedish)