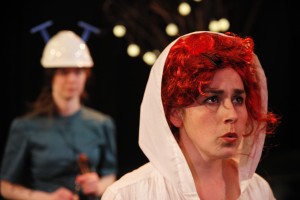 Sånglösa, Singless, is a new-opera for children aged 6-9 years. Singless is NewOpera CO's fourth production.
Singless is a girl who experienced severe losses. She has locked up the sad memories far inside. That is why she lost the ability to sing, something she really loves to do. She cries a lot, but do not show it to anyone. Instead, she keeps to herself, with the inner voice Pronto for company. One day when she is down on the beach and crying, she meets the owl Hobox who wants to help her. They speak with the forest, giving her three missions. If she makes it, she will find her voice again.
In the first, you meet yourself. Meet and learn to see what there really is. In the second, you shall meet another one. Meet and dare to be close. In the third, you shall face the difficult. Meet and remember the truth.
Singless is a story inspired by the fairy tale and fantasy, about grief and loss and about how to dare to deal with the past in order to move on.
Länkar:
Sånglösa reviewed in Alba.nu
Review in kulturen.se     (Läs recensionen på tidningenkulturen.se)
Read audience comments
Listen to report in swedish radio Kulturnytt april 2013
Info paper
Our guide to the teachers 
See Sånglösa from performance 2013. (
Se trailer 5 min.
Participants:
Niklas Ryden (libretto, music, piano, vocals)
Composer and artistic director at the venue Atalante and NewOpera CO. There he leads an aim to develop new forms of musical drama. Niklas Ryden works in his artistic practice also with text and film. He has worked closely with several choreographers and artists over the years. Niklas Ryden teaches at various universities and art schools.
Henrik Andersson (director)
Freelance director, actor, singer and composer, ending in June 2013 his Master degree in theater with an emphasis on directing at the Theatre Academy in Malmö. He works as freelancing opera director and he teaches at the School of Music and Drama, University of Gothenburg.
Eva Ingemarsson (choreography / direction)
Choreographer and artistic director at Eva Ingemarsson Dance Production and the venue Atalante. Has set up some 60 dance performances on stage and different types of rooms. She has also made directing and choreography for Göteborgsoperan and for dance and performing arts programs. Mixing different art forms to develop and deepen the theatrical expression is an important part of her work. Eva Ingemarsson is also trained dance therapist.
Lena Fridell (dramaturg)
Lena Fridell is dramaturge and PhD in Comparative Literature. She has worked for many years in different theaters with a focus on children and youth. She was a driving force when Folkteatern created their venue for preschoolers. After that, she was for many years on Backa Teater and worked in their high-profile projects. Today, she freelances in the theater and participates in various processes with her big experience.
Monique Wernhamn (scenery, costumes)
Artist working on the border between visual arts and performing arts. Have previous works including the performances at Atalante, set and costume Borås Stadsteater. Now she is ton he master program "Contemporary performative arts" at the University of Gothenburg, where she develops and runs an art project in collaboration with young people and cultural institutions in Gothenburg.
My Engstrom Renman (vocals)
Composer and singer of soul, jazz and improvisation. Based in her own band My & the Mighty Mighty Magoo Orchestra. My also sings and tours with Hellsongs. She is featured in various music-dramatic context and was in NewOpera CO's Vi i Villa. My is also current as children's book illustrator in Manne gräver ett hål, Wahlströms 2012.
Karin Wiberg (violin, vocals)
Freelancing as a soloist, ensemble and orchestral musician. Karin Wiberg moves in and between musical and artistic contexts and plays in addition to classical music, even music for dramatic scene, contemporary music, tango and pop in various configurations, including the Trio Phantasm and the tango trio Vråk. Karin Wiberg is also frequently hired for the recordings and string arrangements.
John Bergion (cello, vocals)
Is cellist, composer and arranger. Works in various genres. Is the band Diablo Swing Orchestra he tours the world. Also plays in Von Tord, an avant-garde cello-bass duo that received an award in the United States last year. Writes string arrangements for different contexts and artists lika In Flames and Lena Ph.
Jannine Rivel (project)
Is the project leader at NewOpera CO and working with Singless. Jannine is also dance artist and works with own projects and in various collaborations. She is also a sought teachers in Klein technology.
Susanna Martelin (producer)
Is the producer of the Singless and working to sell opera to schools. Susanna has studied at Kulturverkstan and worked in the independent theater group Arcadia, where she worked with the text and dramatization. She has also worked in Teater Tamauer.