Speak out! Is NewOpera CO's new production. Premieres on November 20, 2017.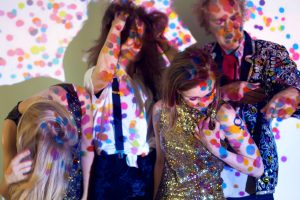 Speak out! lifts our times big questions:
What is democracy? How is money created? How do you know something is true? Is there reasons to be afraid? Why does inequality increase in the world? How do you mitigate hatred? Where are the hopes for the future?
Speak out! wants to lift some of the phenomena that have dominated recent years politics around the world, and made many wonder how safe our democracy really is. The project is a collaboration where Saga Björklund Jönsson is brand new in the ensemble. With background as a artist in the Musicals, she is active in Bataljonen, The Mainstream, and works as a composer and director in various contexts.
Speak out! will be played for adults and school pupils from high school and up. After the performance, there will be audience talki.
Saga Björklund Jönsson, song, action
Karin Wiberg, song, violin, action
Emma Augustsson, song, cello, action
Niklas Rydén, song, piano, action
Text and music by Niklas Rydén and the ensemble
Producer: Emelie Fröjdendahl
Speak out! premieres 20 November at 19 at Teater Cinnober. Length 60-90 min. Also played 21 and 22 November. Spring 2018 it is played at Atalante.
Film from rehearsals during the first laborations in Mars: